I specialize in hydrogeochemistry, applying extensive  technical knowledge to a wide range of environmental problems in water environments.  My experience is in regional scale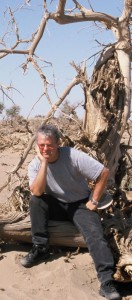 groundwater systems and river basins in Australia and around the world.
My career includes 24 years as scientist, project leader and program leader at CSIRO Land and Water. I spent 6 years at Lamont Doherty Earth Observatory of Columbia University,  New York carrying out a range of projects including acid rain impacts on lakes and nuclear waste disposal. I also spent two years at the International Atomic Energy, Vienna coordinating a range of isotope hydrology projects in large groundwater and river basins.
My book "Environmental Tracers in Subsurface Hydrology" remains the standard reference in the field today. I also continue to serve as Adjunct Professor, School of the Environment, Flinders University of South Australia.
For a full publication list please download the PDF file here AL Herczeg publications